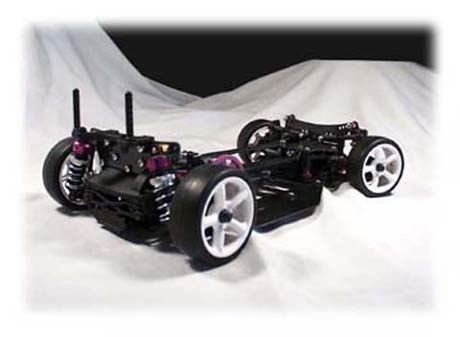 The Penguinr/c P3000 Pro 3 Performance Chassis is designed for one purpose, which is to further improve on the RS4 Pro3 by creating a stiffer chassis backbone to achieve the maximum performance capable. The initial electronics layout produces a responsive and agile vehicle. By using the P3000, chassis dynamics are vastly improved over the stock Pro3 which will create better performance through increased consistency, accuracy, feel, response, and tunability.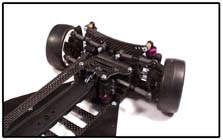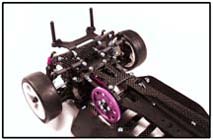 click on picture for larger view
The P3000 chassis kit includes Front and Rear Shock Towers made from M2.5 Graphite. These shock towers add shock angle adjustments beyond the stock HPI towers allowing further tuning ability. Included in the kit are M2.0 Graphite Front and Rear chassis bulkhead braces. These braces replace their plastic counterparts, stiffening the bulkheads further reducing torsional flex.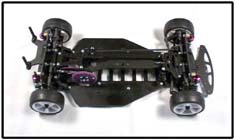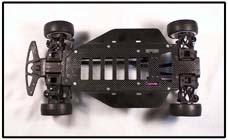 click on picture for larger view
In addition to all of the parts mentioned above, a center longitudinal brace is included as well. This floating brace removes front to rear flex but because of its floating nature it will not allow the chassis to hold tweak when twisted. The optional P3010 Racing Upgrade Kit provides the ultimate stiffness through the use of a full upper deck which replaces this Longitudinal Brace. The lower M2.5 graphite/M1.5 G10 Fiberglass chassis is designed to provide added strength in certain areas of the car, reducing flex and improving overall performance. G10 Fiberglass is used on the areas which the structural rigidity of graphite is not required, reducing the overall cost of this chassis set.


List Price: $106.99
Part Number: P3000





Pictures shown are of prototype P3000, Actual kit may vary.



---

P3000 Replacement Parts List:



P3001
P3002
P3003
P3004
P3005
P3006
P3007
P3008

P3000 Main Chassis
P3000 G10 Side Plate (x1)
P3000/Pro3 Front Brace Kit
P3000/Pro3 Rear Brace Kit
P3000 Longitudinal Brace
P3000/Pro3 Front Shock Tower (requires P3008)
P3000/Pro3 Rear Shock Tower (requires P3008)
P3000/Pro3 Shock Tower Hardware

$58.99
$7.99
$7.99
$16.99
$9.99
$10.99
$13.99
$12.99

$
$
$
$
$
$
$
$



P3000 Option Parts List:



P3002g
P3010

P3000 Graphite Side Plate Set
P3000 Racing Upgrade Kit

$14.99
$14.99

$
$



SALE!!! items indicated in red.

Click on blue "$" to add parts to your PayPal web cart.


If you have any questions or comments regarding this chassis conversion please feel free to mail us at support@penguinrc.com


©2001 Penguinr/c